Management Principals
The basic and indispensable elements for the existence and development of a company are "clients", "stakeholders", "organizations", "employees", "business partners", "community" and "sound management principals"of the top management.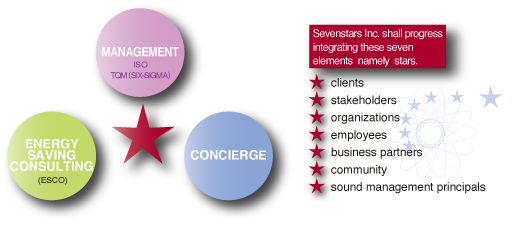 ---
Sevenstars' mission is to offer a company consulting services integrating what we have learned through manufacturing fieldwork, auditing record and consulting achievement. "Management system Division" is a consulting department to establish a management basement for enterprises. "ESCO Division" and "Concierge Division" are supportive departments to supply a company with logistic support services to operate and maintain their management systems.
---
It is a well-known fact that many companies in over 130 countries throughout the world are adopting global standards such as ISO to their management systems. In the 1980s many of Japanese manufacturers proceeded to carry out TQC (Total Quality Control). Nowadays ISO standards are also the mainstream in Japan. What is the difference between TQC and ISO? Considering these management systems forms a basement of a company, both are the same basic. Now TQC is called TQM (Total Quality Management). ISO and TQM are synchronized activity like an inseparable pair of car wheels for a company to move straight forward. ISO is a framework to get locomotive power for a company though TQM is like a strength-training for improving the quality of their services and products to move faster. Neither ISO nor TQM should be utilized in vogue. Both of them are indispensable and continual operations lasting as long as a company exists.
For uprising companies in 21st centuries just a documented certification is not indispensable anymore. Only acquisition of the license would be done by any consultant. What we can do is to offer you obvious methods to make the company's management system invulnerable by integrating the ISO management and TQM management which is derived from Japanese superior management technique. Our staffs are disciplined and trained TQC professionals and have enough experiences of company management, audit career and consulting background. Sevenstars shall carry on supporting your company through the world wide management services departed from Japan with our energetic zeal and sound sincerity.